Our next workshop will be held in Dublin at the Best Western Sheldon Hotel on the 20th November
This course will run from 10am to 5pm for 1 intensive day of face painting fun and is designed for advanced face painters as well as beginners
Your day will be an introduction into everything face painting . You will be learning the basic techniques to create beautiful images and designs working on models and training head.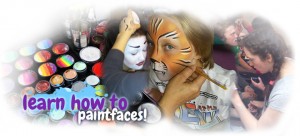 We will also show you the practical sides into how to go about getting work, including insurance, advertising and great contacts
This workshop costs 130 Euro
These are some of the topics you will cover:
Face painting sponge techniques
How to apply perfect bases
Flawless color blending
Brush Techniques
Perfect line work included brushstrokes, teardrops,
How to highlight your designs
Using glitter
How to construct Face Painting designs
Make your design stand out by adding special effects such as ""starbursts""
Girl's faces- Teardrop's swirls curls and all things pretty,beautiful butterflies, fairies,princess
Boy's faces – Monsters, characters, extended animals, our signature Half face
Halloween designs
Fast face paint's
Practicals: ie::Insurance/public liability/ social media/ Useful information and numbers
At the end of the day you will receive a certificate of completion
If you are interested in taking part get in touch today via our website,e-mail -premierfacepaintingireland@gmail.com or by phone 0877607956!!
You can view all our galleries and images on our Facebook page below
Facebook Premier Facepainting Ireland