THIS WORKSHOP WILL TAKE PLACE IN CORK CITY IN THE CORK AIRPORT HOTEL ON 26/11/17
The course will run from 10am to 5pm for 1 intensive day of face painting fun.
Your day will be an introduction into everything face painting . You will be learning the basic techniques to create beautiful images and designs working on models and training head. You do not need to be a new comer to the world of face painting as there is always tricks and tips to add to your skills.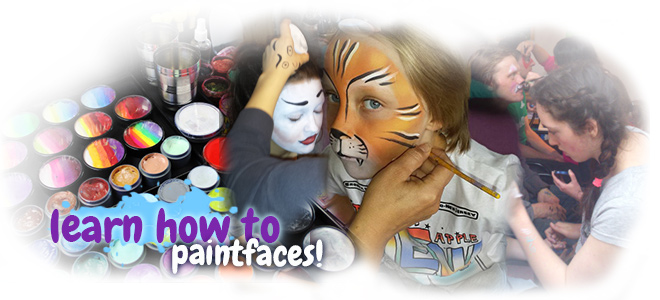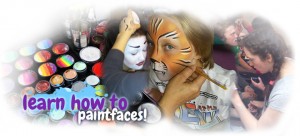 We will also show you the practical sides into how to go about getting work, including insurance, advertising and great contacts
This workshop costs 120 Euro A 30 Euro deposit is required to secure your booking
ON THE DAY YOU DO NOT NEED TO BRING ANYTHING WITH YOU APART FROM A LUNCH. WE PROVIDE ALL THE EQUIPMENT , FACE PAINTS, TRAINING HEADS, BRUSHES ETC…. WE DO RECOMMEND YOU ASK A MODEL TO COME AT 3PM AS IT IS A GREAT OPPORTUNITY TO PAINT ON SKIN. FOR THOSE OF YOU WHO CANNOT DO THIS TRAINING HEADS ARE USED
These are some of the topics you will cover:
Face painting sponge techniques
Double dipping
How to apply perfect bases
Flawless color blending
Brush Techniques
Perfect line work included brushstrokes, teardrops,
How to highlight your designs
Using glitter
How to construct Face Painting designs
Make your design stand out by adding special effects such as ""starbursts""
Girl's faces- Teardrop's swirls curls and all things pretty,beautiful butterflies, fairies,princess
Boy's faces – Monsters, characters, extended animals, our signature Half face
Halloween designs
Fast face paint's
Practicals: ie::Insurance/public liability/ social media/ Useful information and numbers
At the end of the day you will receive a certificate of completion
If you are interested in taking part get in touch today via our website,e-mail -premierfacepaintingireland@gmail.com or by phone 0877607956!!
[ngg_images source="galleries" container_ids="23″ display_type="photocrati-nextgen_basic_thumbnails" override_thumbnail_settings="0″ thumbnail_width="120″ thumbnail_height="90″ thumbnail_crop="1″ images_per_page="20″ number_of_columns="0″ ajax_pagination="0″ show_all_in_lightbox="0″ use_imagebrowser_effect="0″ show_slideshow_link="1″ slideshow_link_text="[Show slideshow]" template="/home/premierf/public_html/wp-content/plugins/nextgen-gallery/products/photocrati_nextgen/modules/ngglegacy/view/gallery-carousel.php" order_by="sortorder" order_direction="ASC" returns="included" maximum_entity_count="500″]
You can view all our galleries and images on our social media pages below:
Facebook Premier Facepainting Ireland
---